What Shoes Should I Wear to a Party?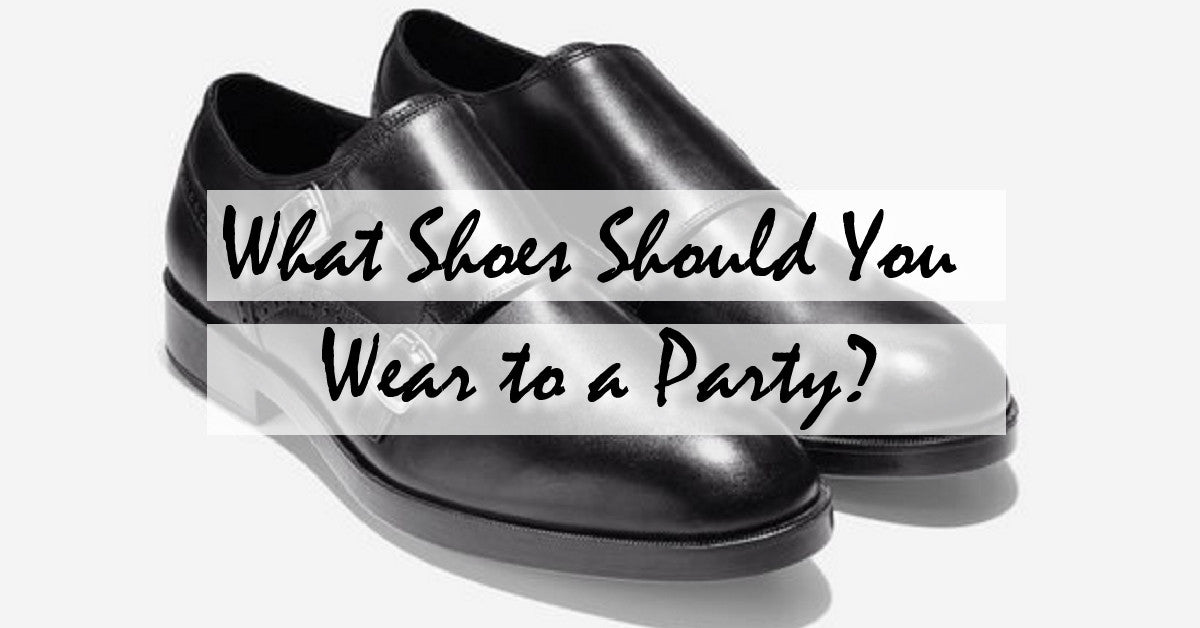 I'm a sucker for a great pair of fashion sneakers just as much as the next guy, but nothing elevates your style more than a great pair of party shoes.
What I'm talking about here are shoes that get you noticed and compliments all day and night long and show how great your taste is in style. Not that fashion sneakers do not give you the same effect, but ultimately they read more casual than sophisticated and stylish. When you're going to a party you want your look to say you do not play around when it comes to celebrating in style.
The right pair of shoes can take your look from a 6 to a 10 in one simple step - pun intended.
So instead of opting for your favorite pair of fashion sneakers, go for a pair of oxford monk strap shoes, oxford wingtip shoes,  or the classic Chelsea boots. Each of these styles effortlessly elevates your look while being able to flawlessly transition from business to causal settings.



Oxford Monk Strap Shoes

The novelty of the pattern on these shoes adds the right amount of personality to even your most basic looks. Pair these shoes with a pair of fitted jeans, a simple t-shirt, and a killer casual bomber jacket and you've got yourself an elevated casual outfit for running errands or meeting up with friends for drinks. For that holiday party, simply change your shirt to a classic crisp button-up and switch out your jacket for a stylish blazer.



Wingtip Oxford Shoes


These shoes are not only for business and workwear. Oh no, they're meant for so much more. These bad boys will elevate an awesome pair of your fitted jeans and a t-shirt like there is no tomorrow.  The strength in this shoe style is the texture of the leather mixed with the awesome design detailing. Because of it's awesome design detailing, this shoe adds a bit of personality to your business suits while still being able to transition into an elevated causal look for a night on the town.




The Classic Chelsea Boot


Nothing says stylish perfection like a great pair of Chelsea boots. This shoe style will turn any look you put together into a sleek stylish ensemble. These shoes are your secret weapon to looking like a stylish and sophisticated bad ass. 



What's your favorite shoe style to elevate your looks?
Voice your comments and thoughts below!
Your friend in Style, Confidence, and Fashion,
Dwyne K. Wickliffe, Jr.
Product Photos from ColeHaan.com.
|
Posted on December 22 2016