Machine Washed Leather: Can you machine wash leather?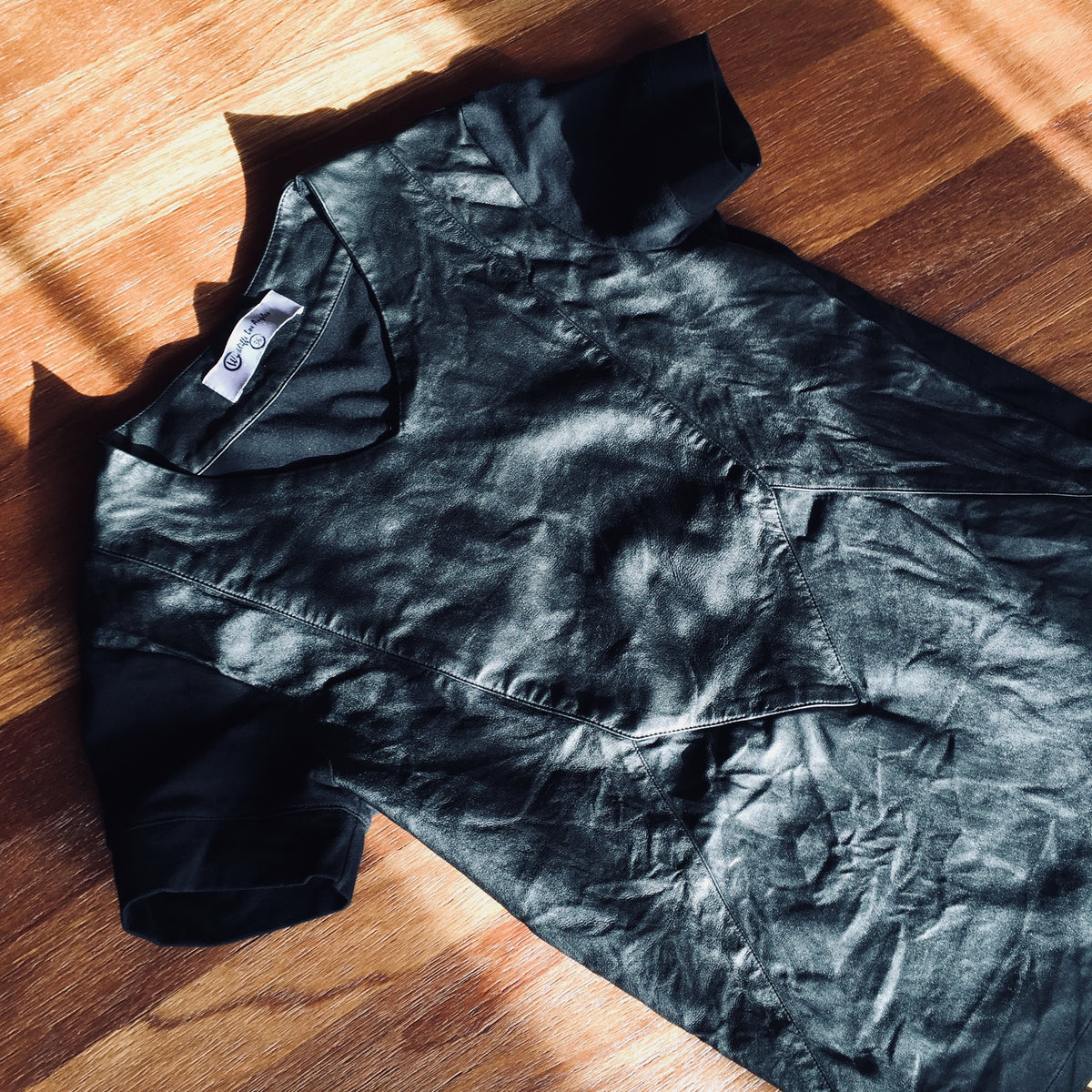 Do love experimenting when it comes to fashion?
Have you ever wondered if you could wash leather in a machine?
Or, have you ever wondered what happens to leather items when you machine them?
The Donovan Leather Shirt from my online boutique is one of my favorite pieces for styling a look with a bit more attitude. But having to always dry clean can sometimes be a hassle and wanted to test out machine washing this hot little number.
I did a little research to see if in fact you could machine wash leather goods in the washing machine. From my research I found technically you can wash your leather goods in the machine as long as you are okay with the texture and look, and possibly the color changing during the wash.
For some leather goods, like suede, avoid trying to machine wash since the structure of the suede fabric weakens when wet. All other leather goods should be safe to machine wash safe.
The Donovan Leather Shirt is composed of a stretch lambskin and contained no sueded leather. I knew there was a high likelihood that this garment would survive machine washing while keeping the leather intact but finished with a more washed and wrinkled appearance than the original look of the leather.
Throughout time, stiff leather goods tend to break down to a softer and more comfortable wear but machine washing leather helps to expedite that process of softening the leather as well.
The washed leather look is a superb effect you can do if you want to add a bit more texture, comfort and softness, and a slightly distressed look to your leather pieces.


How to machine wash your leather clothing? 
1. Machine wash your leather garments separately from all your other clothing.
(Add a sheet or low fibrous towel to protect and external trims - note sometimes the leather dye may bleed or transfer from the garment).
2. Use regular liquid detergent.
3. Set machine to delicate wash and wash in cold water only.
4. After washing, the recommended drying method would be laying the garment flat to dry - hang drying is preferred. (You can also dry the leather garment in the dry on air dry setting with no heat to help expedite the drying process).
5. Once dry it is time to rock out your new washed leather look at your next party or night out with friends. Boy betta get it!
Shop this Post:
Donovan Leather Shirt
The original care instructions recommend to dry clean only to maintain the sleek look of the original stretch lambskin leather. But if you're feeling a bit adventurous and want to add a bit more attitude to you look, give the washed leather look a try!


What are some ways you would style a washed leather look?
Share your tips in the comments below!
Would love to know!
As always, thank you for reading along and make sure to
Your friend in Style, Confidence, and Fashion,
Dwyne K. Wickliffe, Jr.


|
Posted on January 07 2018